Gather Textiles Project Blog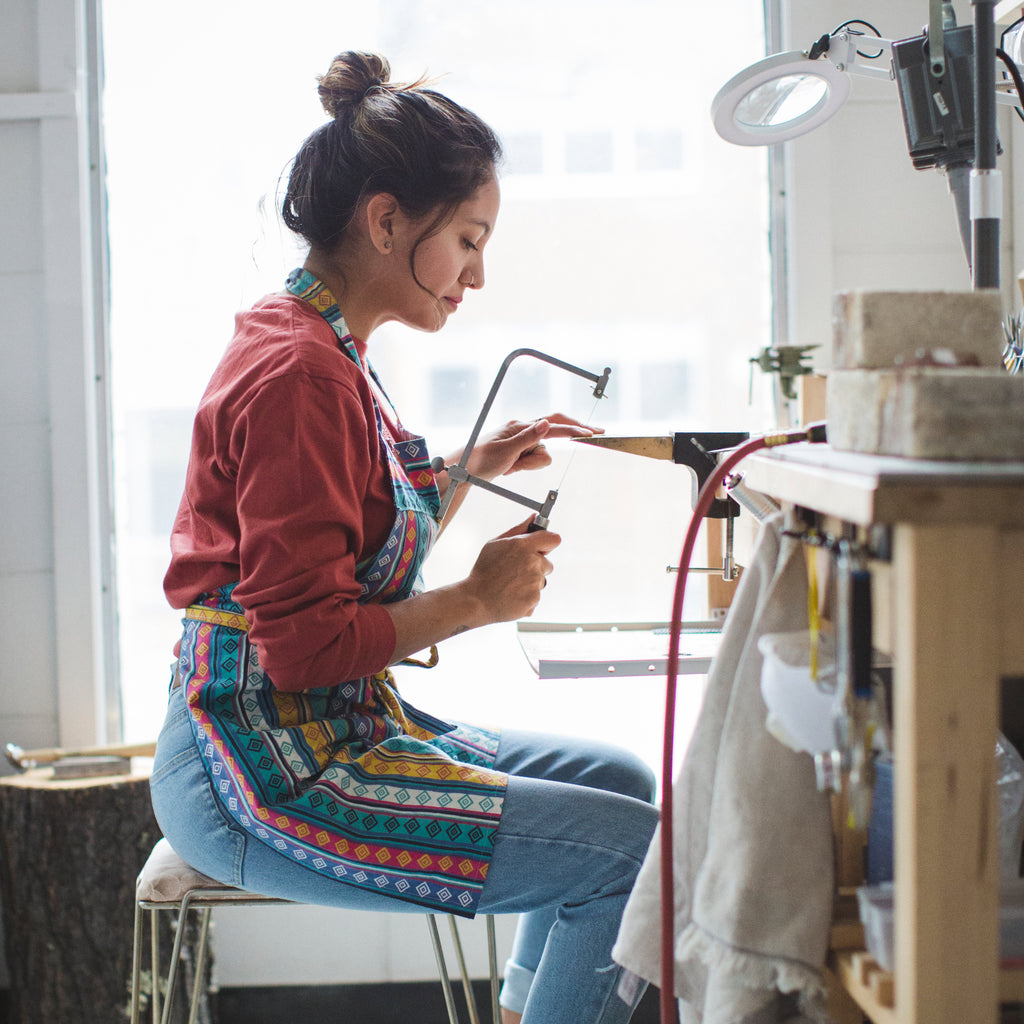 April 30, 2021
Gather's collaboration with Hand Laboratory started very simply: "Kim got in touch and said we like what you do, do you want to make something for Gather?" Victoria Sanchez remembers. "I wanted to make this a special thing. So we brainstormed a lot, and bounced ideas off each other." Victoria's goal was to draw on the common elements between weaving and metalsmithing. Her work with bronze and other metals is slow and precise, requiring meticulous attention to her materials and lots of advance planning. "It's just like weaving!" she says with a laugh. "I wanted to distill the idea of weaving into pieces of jewelry. I studied the texture, considered using colour…" But her eureka moment came when she was holding a handwoven sample and looking at it with her 'loop', the magnifying lens she wears around her neck to see her metal pieces more clearly. "I was looking at the cloth with my loop, and I realized that it's a bunch of little lines! And the arrangement of those small lines creates endless options. Kim laughed and said 'yeah, that's called twill' and we went from there."
Victoria ended up creating five different pieces for Gather's Greenhouse collection, all based on twill progressions in handweaving. Some mimic diamond twill, others show a few warp ends in a row, and the simplest is a vertical line representing a single segment or warp float. Victoria debated whether to include the single float in the collection. "I was hesitating about making the single one, since it's so simple. But I wanted to keep referencing that building block, that single unit." That individual float was what made up all the other pieces, she ultimately decided, so it deserved to be honoured with its own piece. 
When making her jewelry for Gather, Victoria went back to that individual unit and built each twill segment piece by piece. She pulled strips of bronze through a metalsmithing tool called a rolling mill to make it uniformly flat with clean edges. Then taking a "tiny" saw, she hand cut each segment of bronze to the same precise size before soldering them together. "A friend of mine told me, you know you can just make a mold and cast those as a single piece, right? And yes, it would have been faster, but I decided not to do it." Creating the pieces segment by segment was closer to the process of weaving, where one end of warp or one pick of weft is added at a time. It also allowed tiny imperfections to enter the finished product, showing its handmade origin. "When you solder the pieces together, you use something called flux to help with the process. I try to be as meticulous as possible, but there are always some tiny irregularities that make their way in." Again, she says, "It's just like weaving!" Weavers and metalsmiths both aim at precision, but love the human touch that enters into the making process. And in both weaving and metalsmithing, Victoria says, "the material dictates what you can do." Whether we are making tea towels or earrings, craft brings us into collaboration with our materials. We can never truly control the outcomes.
Gather's collaboration with Victoria ended up revealing deep commonalities between two crafts that seem very different from each other on the surface. Her work is inspired not only by the visual language of weaving, but also by its meticulous and methodical process. Her earrings and pins let the wearer show off their weaving cred, but also provide a point of connection to the shared experience of all crafters in our work.
Check out Victoria's twill-inspired earrings and pins in Gather's Greenhouse Collection!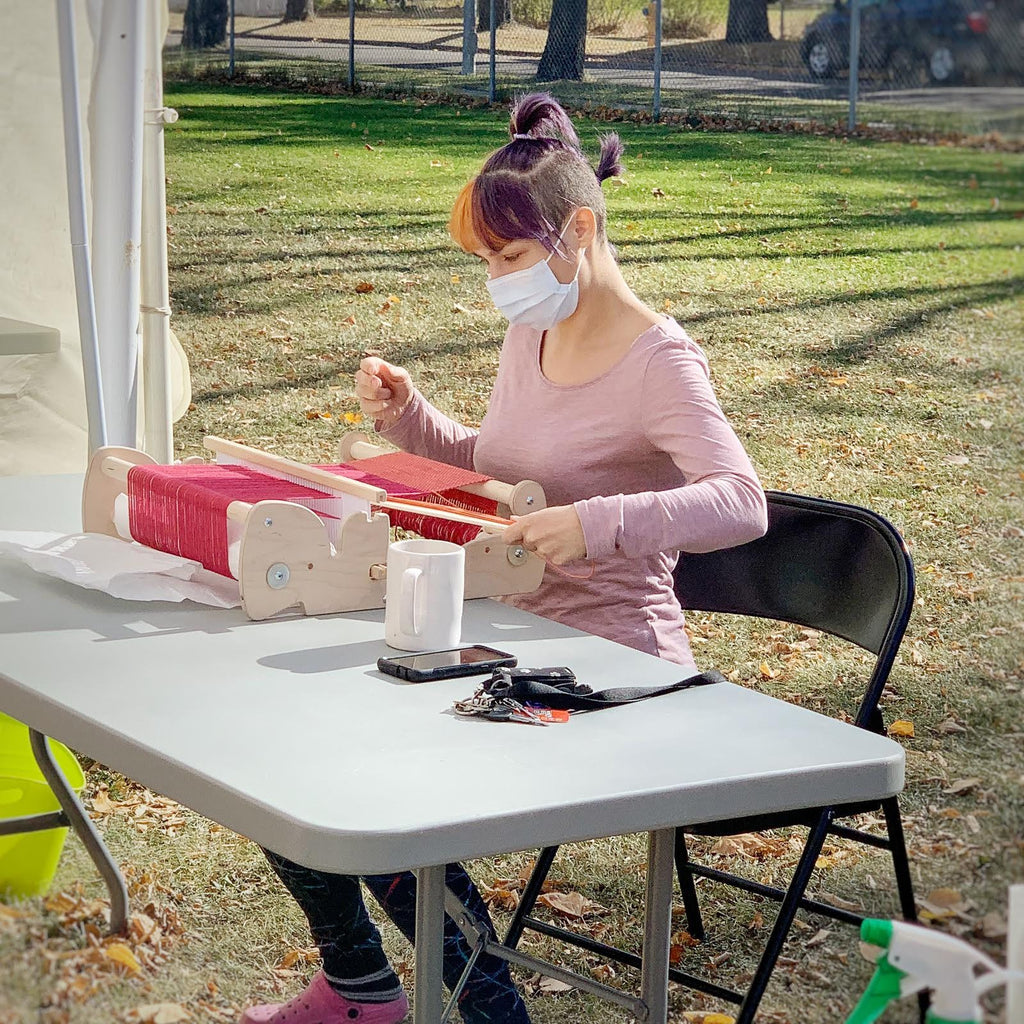 October 08, 2020
On a sunny Fall afternoon in Boyle-McCauley, new weavers showed off the fruit of their day's labour. A mom and daughter had made matching placemats for their home, each in their own favourite colour. A young woman, away from her toddlers for the first time since the Covid lockdown in March, had woven a rainbow scarf. And best of all, the social butterfly of the group held up "Rascal's Blanket", a new sleeping mat for her beloved cat. 
Rascal's Blanket.
This was our first community weaving workshop. By partnering with anti-poverty organization E4C, we were able to make it free for participants. Social Work students from MacEwan ran around, assembling an outdoor tent and making sure that everyone had snacks, masks, and hand sanitizer. Community members drifted in and out. Some said hello, some stayed for a banana and a chat, and a few settled in and joined the weaving. 
In many ways, it was like any other workshop. Weavers made new friends. They drifted back and forth between periods of relaxed chatting and periods of intense focus. Frustrations surfaced; victories were celebrated. But in many ways our workshop was different. Across the alleyway at McCauley Apartments, MLA Janis Irwin was holding an informal town hall meeting to hear the neighbourhood's concerns about potential cuts to AISH. Most of the weavers wrapped up their projects a bit early so that they could talk to her about their fears and their financial stresses. The windows of Sacred Heart Church of the First Peoples looked over the scene, still blackened with smoke from a devastating fire. Our comfortable space of creative community was not separate from the hardships faced by so many Edmontonians.
E4C came up with the brilliant idea of using a tent to provide shelter while minimizing Covid risk.
The benefits of weaving feel particularly relevant to share in this setting. Weaving is therapeutic. It requires focus, and connection between your mind and your body. In an overwhelming time, it opens up a space of calm. It also gives us a chance to express our simplest and deepest loves--love for the cat who gets a new sleeping mat, for the home that will be decorated with our handiwork, or love for ourselves when we are too used to running ragged caring for everyone else. The pride and satisfaction that comes from making something tactile, useful, and beautiful is profound. You could see it beaming from everyone's face.
Weaving is for everyone. It is a universal form of craft, but access to it is far from universal. Looms take up space. They cost money. And breaking into Edmonton's weaving scene can feel daunting. A big part of why I'm excited to be the newest member of Gather's team is the Gather's welcoming vibe. Kim and Angela are always thinking about to help new weavers and sewists feel comfortable, confident, and supported in their creativity. By removing financial barriers to weaving through accessible workshops, together we can extend that welcome beyond the walls of our studio. 
Our first community workshop was such an uplifting experience that I am very certain it won't be our last. We will keep building relationships and reaching out to new collaborators to find ways to really and truly make weaving for everyone.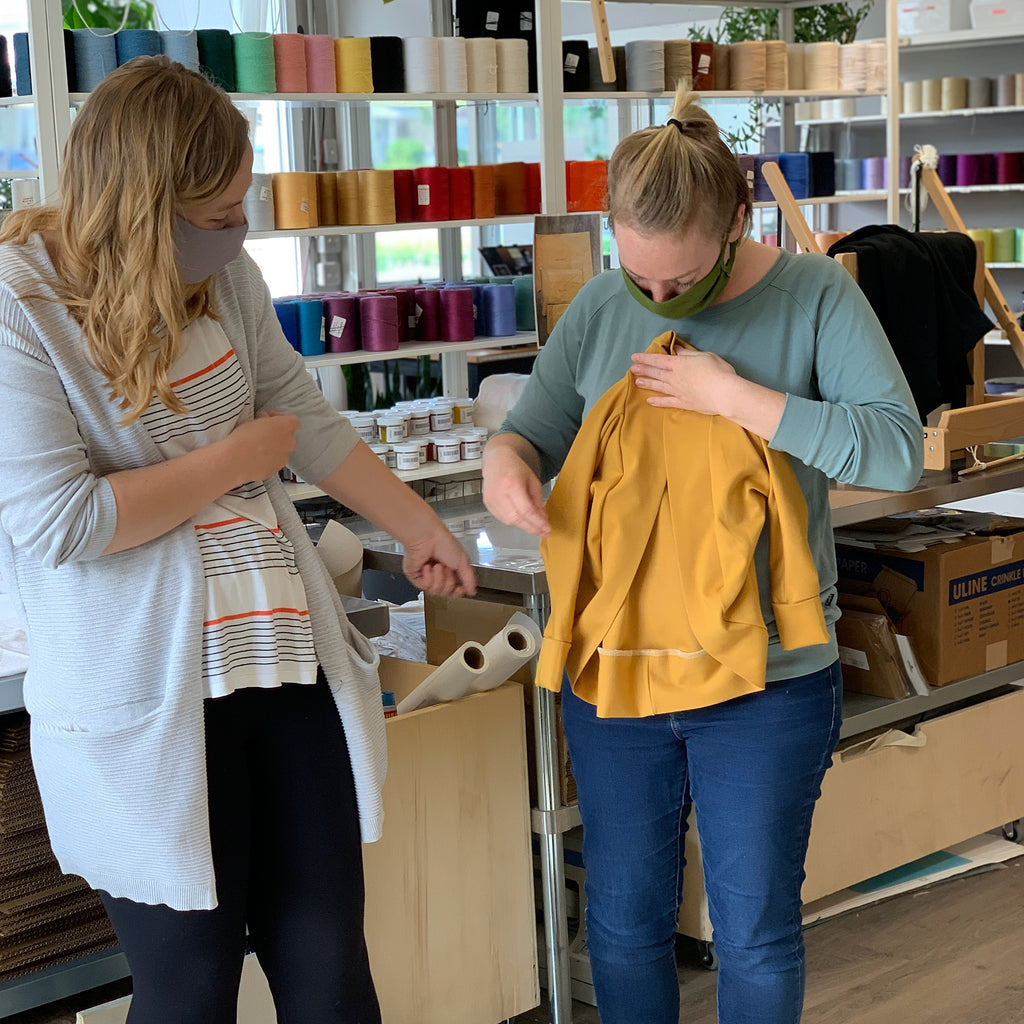 October 02, 2020
Dani has been doing lots of sewing 1:1 teaching lately. Here these two sewed the cutest little cardigan for a special photo shoot. 
Weaving and sewing are often seen as solitary pursuits--we sit alone at the loom or the sewing machine, working quietly and intently on the textile work in our hands. While we do love our quiet crafting time, anyone who weaves or sews also knows how important our connections with other people are. We look back at the people who have built our textile traditions over the generations, and we share our excitement with newcomers to our crafts. We gather together in workshops and guilds, consult friends and experts, and gleefully share the fruits of our labour with other people. Collaboration is at the heart of craft.
Collaboration is also at the heart of Gather. We were founded when Kim, a weaver, and Angela, a sewist, joined forces to create a place where they could combine their expertise and share love and knowledge of both their passions. This is seen most clearly in our Weave and Sew workshops, where Kim helps participants weave their own cloth and Angela shows them how to incorporate that weaving into a sewing project. They also work together on intricate textile projects, like the stunning handwoven coat they co-created for the Alberta Craft Council. Collaboration runs through all of Gather from projects and workshops down to the details of running a business. If you haven't already heard the story of Kim and Angela's partnership, check out their recent episode of the Weave Podcast! Working together on the business makes it both more resilient and more fun.
Sarah is cutting into her handwoven fabric with the encouragement of Angela
One of the benefits of collaboration is that it gives us courage to take creative risks. Cutting into a handwoven piece of fabric to sew with it is terrifying, but knowing that Angela has taken the time to do test runs, make a muslin, and tweak the pattern to perfection takes (most of) the fear out of putting scissors to fabric. Collaboration also encourages us to keep learning and stay open-minded. Weaving might feel overwhelming to a master sewist, and vice versa. When we stretch ourselves to incorporate other skills and the input of other people, we spark our creative fire.
Now, in some ways 2020 is a terrible year to emphasize collaboration. How do we collaborate when we can't be within six feet of each other? But in other ways, 2020 is the perfect year to focus on how we can work together, lift each other up, and grow as a community. Now more than ever, we know that we can't do this alone.
So how is Gather rising to the challenge of collaboration during Covid? We are working on creative ways to connect across distance, like our brand new online course. We are making sure our workshops are small and safe, so that in-person collaboration can continue to thrive. We are building a staff of enthusiastic collaborators who each bring their own superpowers to the table. And of course we are still hearing from all of you about your ideas and schemes, and supporting you as you bring them to life!
We're also reaching outside of our doors to connect with other inspirational collaborators. We recently began stocking Duet and Mallo, two beautiful yarns developed by Gist Yarn and Fibres in collaboration with people working in the North American textile supply chain. We are connecting with community organizations like E4C to provide accessible weaving workshops to residents of the Boyle-McCauley neighbourhood. I am sure by 2021 we will have even more exciting new projects to share with you!
Darlene (with book) has been working 1:1 with Shannon for the past several months. Together they design drafts, wind warps and weave. Shannon brings a wealth of weaving expertise and Darlene brings a great eye for colour and an infectious enthusiasm!
So thank you for being our collaborators. Thank you for being part of our community of crafty people, and for sharing your joy and creativity. We'll be telling our stories of collaboration on the blog over the next few months. We'd also love to hear how collaboration is part of your own craft practice! If you have a story to share, drop us a line any time at info@gather.com. We are so grateful that none of us has to do this alone.