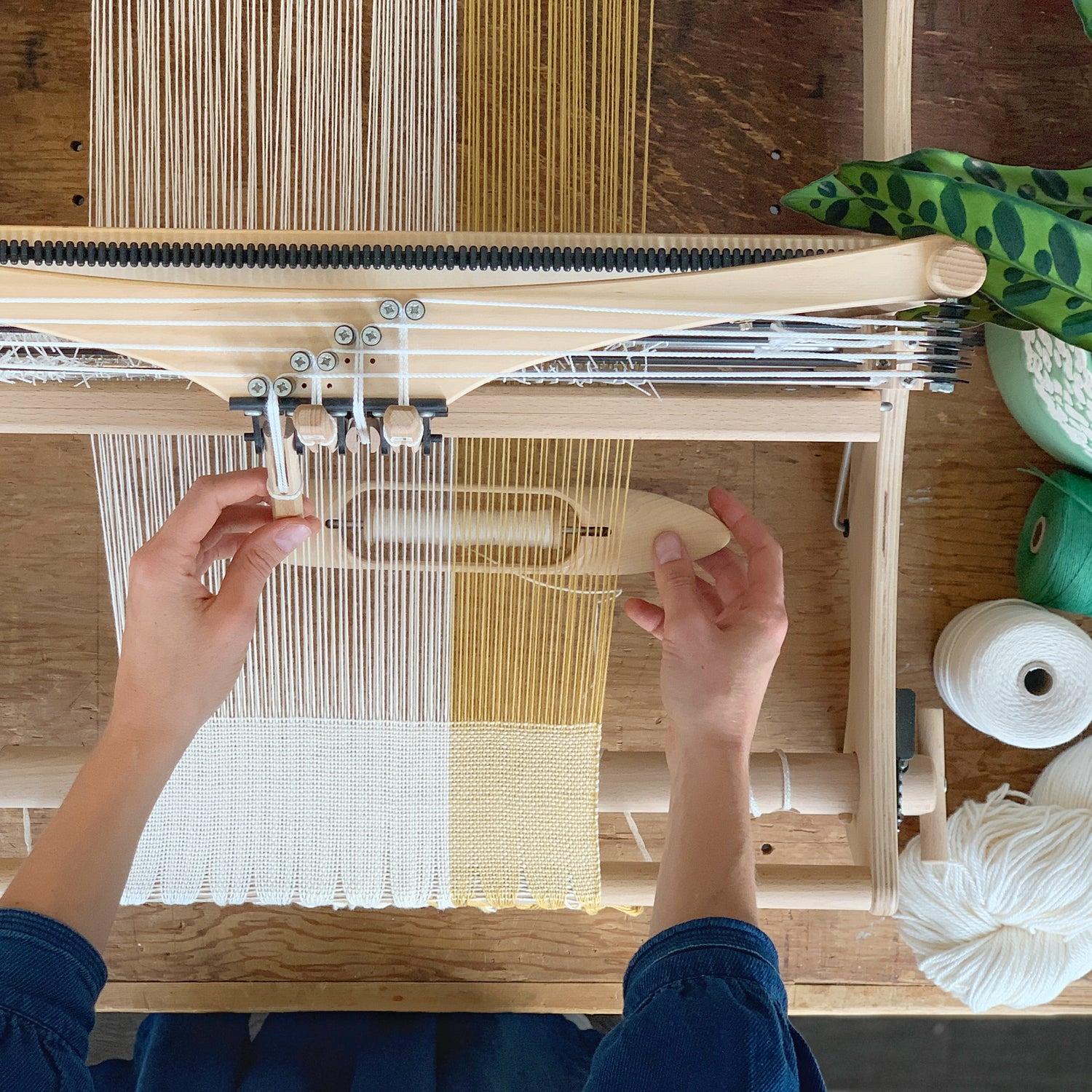 Table Looms
Price Range  $500 - $2000
18" to 27" weaving width
Somewhat slow to get set up, somewhat slow to weave on
Can produce both simple and highly complex weave structures
Best for: weavers who want to be able to explore complicated patterns, but have limited space or mobility .
Table looms are just as capable as floor looms of producing gorgeous, complex weave structures.
Twills, overshot, double weave, shadow weave, you name it, you can weave it on a table loom. Table looms are also very portable, making them excellent looms for bringing to workshops or travelling with. With a table loom, you can weave on your back porch or on vacation. You can also easily lend your loom out to a friend to get them hooked and turn them into your weaving buddy!
Because table looms pack the capacity for complex weaving into a small package, they are beautiful and often intricately designed small looms. Louet looms have elegant lines and artful details. Schacht's table loom has a more rustic look, but is engineered for clean, accurate weaving. With a table loom, the entire weaving process is in view while you work. This can be mesmerizing.
The only downside to table looms compared to floor looms is speed. 
On a floor loom, labour is divided between your hands and your feet. With a table loom, you are doing everything with your hands. This slows down the pace of weaving, and can make it harder to get into a good rhythm. That said, if you have limited mobility or joint issues in your legs, doing everything with your hands can be a real positive.
In terms of warp lengths, table looms are in the middle of the range. Table looms allow you to make longer warps than a rigid heddle loom, but not as long as a floor loom. You can make a single project at a time, or you can absolutely set up a single warp that will give you several dish towels or a handful of table runners. 
Table looms hit a sweet spot between size and complexity. They let you explore a range of techniques while only taking up a small footprint.
Extras
To make finer or heavier cloth, it is useful to have more than one reed. You will also need a warping board or warping mill for preparing your warps. An extra shuttle or two will let you comfortably switch between weft colours. Stands are available if you want to free up table space. Anne Dixon's Handweaver's Pattern Directory will get you started with a wide range of four-shaft patterns.