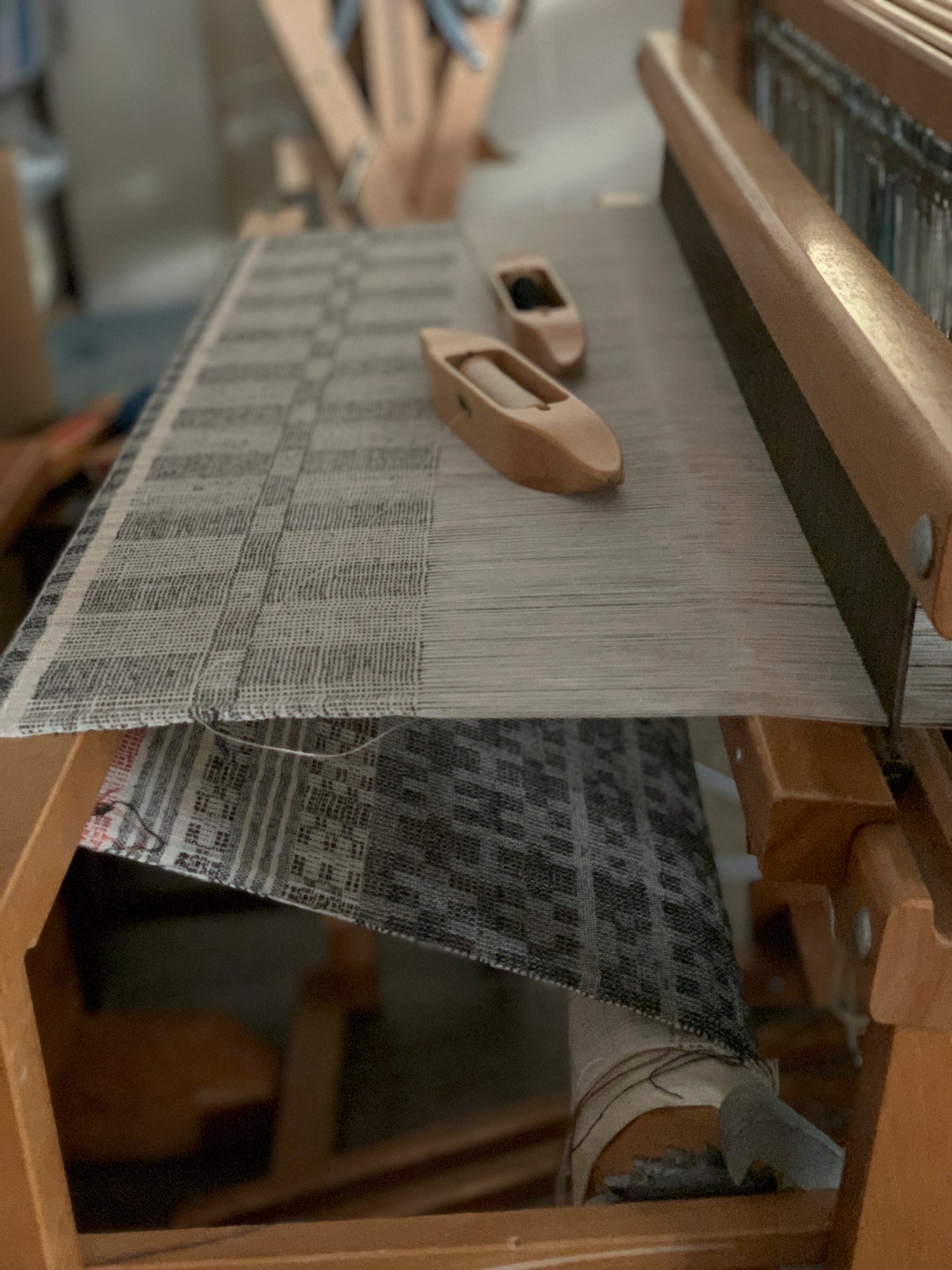 Floor Looms
Price range $1700 - $5000+
18" to 60" weaving width
Slow to get set up, fast to weave on
Can produce both simple and highly complex weave structures
Best for: weavers who want the widest range of possibilities and options; ambitious weavers who want to produce a large volume of cloth or want to sell their work
If you have the space, the budget, and the ambition, it's worth it to get a floor loom. 
There's a reason why these looms are treated as the gold standard weaving loom. They are incredibly flexible, producing both simple and highly complex patterns. They are efficient, allowing you to make multiple items on a single warp. They are fast to weave on, dividing the labour of weaving between your hands and your feet. And they are incredibly enjoyable to use. Floor loom weaving is what often comes to beginners' minds when they picture weaving--the rhythm of shafts rising and falling, a shuttle flying back and forth, and a long roll of finished work slowly building up around the cloth beam. 
Floor looms are usually about the size of a piano. Weaving widths ranges from 18-60 inches, with 26-45 inch widths being the most popular. They take up a large footprint in your home, but their size comes with many benefits. You can weave cloth with greater width. You can also weave very long warps. While rigid heddle looms top out around five yards of length, floor looms can hold massive warps ups to 50 yards long. Don't worry, though! You can still weave a short warp or make a scarf-width piece on a floor loom. But if you end up wanting to push your limits, the option is there. A floor loom can carry you through your entire weaving life, no matter where you end up wanting to take your weaving.
Of course, all this potential comes with trade offs. 
Setting up a warp on a floor loom ("dressing the loom") is a slow process. Dressing a rigid heddle loom takes a couple of hours; winding a warp and dressing a floor loom is likely to take more like 6-8 hours. Floor looms also produce a substantial amount of loom waste, with 24+ inches of the warp being cut off as waste on each project. Making multiple pieces on the same warp minimizes the waste per piece.
Floor looms require physical mobility and strength to operate and maintain. I am often down on the ground next to my floor loom to adjust the tie ups or repair the brake. I also end up shoving it around the room a fair bit to get clear access to different parts of the loom for beaming, threading, etc. Weavers with limited strength in their hands or legs, or with limited ability to get up and down may need occasional assistance setting up a warp. 
One of the most fun parts of having such a large and complex tool is really getting to know your loom. Floor looms are made of solid wood with intricate metal mechanisms. Over the years, you will end up learning your loom's quirks, doing minor repairs, and discovering all of its strengths and possibilities. It's no wonder that many weavers end up naming their looms. 
Extras
To make finer or heavier cloth, it is useful to have more than one reed. A comfortable loom bench will extend your weaving time and protect your health. You will need a warping board or warping mill for preparing your warps, and a raddle for spreading the warp out when you're winding it onto your loom. An extra shuttle or two will let you comfortably switch between weft colours, and a bobbin winder will make loading up new bobbins a breeze. Anne Dixon's Handweaver's Pattern Directory will get you started with a wide range of four-shaft patterns. A sectional back beam improves speed and tension for weaving very long warps, and can be added later if you desire.